Former paperboy, choirboy, shop assistant, ice cream seller, chip shop manager, petrol pump attendant, pub caterer, post office worker, theatre usher, cleaner, adult education tutor, leaflet distributor, front of house manager, t-shirt designer, screen printer, children's book author and illustrator, gardener, teacher – Daniel Lehan now makes books.
Lehan's surrealist books play with our expectations of language and image; they follow the format of a nostalgic guidebook or souvenir postcard book but they aren't quite right. Juxtaposing images and texts meticulously cut from medical health books, vintage magazines and gardening guides, they amuse and beguile in their mix ups of flowers, castles, aliens and showgirls.
Sarah Bodman – Senior Research Fellow for Artists' Books / Programme Leader MA Multidisciplinary Printmaking, Centre for Fine Print Research, University of West England.
Image  – courtesy of Dom Moore, Counter 2018
BOOKS STOCKED AT
BookArtBookShop, 17 Pitfield St, London N1 6HB
The London Centre For Books Arts, Britannia Works, 56 Dace Road, London E3 2NQ
The South London Gallery Bookshop,  65-67 Peckham Rd, London SE5 8UH
COLLECTIONS
The National Poetry Library, Southbank Centre, London
Artists' Book Collection, Winchester School of Art Library, University of Southampton
The University of West England – Bower Ashton Library, and the Centre For Fine Print Research Collections
Oxford Brookes University Library
Artists' Books Collection, Cardiff School of Art and Design
Arts University Bournemouth
Foundation Jan Michalski, Switzerland
and
Private Collections
Copies of Gwalia Gazette – a project for World Book Night 2019, with contributors from Canada, Germany, Israel, The Netherlands, Sweden, the UK and USA selecting their favourite 10 words from Under Milk Wood – mine were biscuit, kippers, nuzzle, sill, tea caddy, tea gowns, treacle, trousers, wet nosed, and whale juice – are included in these collections ~
The Bavarian State Library – The Saint Petersburg Literary Museum – The British Library – State Library of Victoria, Melbourne, Australia – Tate Britain, London – Yale Centre for British Art, USA.
For more information please see the NEWS section.
MY FIRST ARTISTS' BOOK FAIR – BOOK ARTS NEWSLETTER – NOVEMBER 2017
255 Days Before
I meet Simon Goode and Sarah Bodman at The London Centre For Book Arts for an advice session. Previously, for about a year, I had focused on making collaged work. Numerous books, collaged postcards, tourist guides, and letter cards. Some with images, some with text, some with both. I enjoyed making the work, enjoyed sourcing material from Deptford Market and charity shops. Now I felt I needed responses to the work. Was the work any good ? Was it simply derivative of work Simon and Sarah had seen before ? which would disappoint me. Was the work worth continuing with ? The advice session was hugely worthwhile. Questions above, and others, answered. A distinction made between making Catwalk Model Books (one off, thus more expensive), and editions I could produce (hence more affordable) and take to book fairs. To do this I would need to learn printing and bookbinding techniques. Sarah's final recommendation – Make LCBA your second home – Catwalk Model Books a term used by Ian Chamberlain, a colleague of Sarah's at The University of West England.
229 Days Before
I travel to Winchester School of Art, where I had been a student, to meet Catherine Polley, Head of the Library, and Curator of The University of Southampton Artists' Books Collection, hoping the work will interest her. Three one off Catwalk Model Books – 6 View Letter card of Loch Lomond – The Cotswolds – The Beauty of Guernsey Alderney & Sark – join the collection. This encourages me greatly.
The Days Between
Working at LCBA I learn, above all, to be patient. Perhaps I had thought making the books would be a case of 'merely' making books. And although making editions excited me I don't think I regarded this as a particularly creative activity – not when compared to the creation of the original books. How wrong was I. This attitude was not only misguided, but also limiting, one that hardly promised enjoyment. Now, I consider making editions of the collaged books an extension of the making of the book in the studio – rather than merely a mechanical task, producing stock. I had to come to terms with the disparity between the experience of having made work for a long time (and the accompanying familiarity of this) and the unfamiliarity of learning new skills. I have never felt so clumsy  this has, thankfully, lessened). Fingers and thumbs incapable of doing what I wanted them to do. Glue got where I didn't want it to, didn't go where I intended. Paper simply refused to folded accurately. I learn it is better to enjoy making one good copy, than making more, and not enjoying this. I still overestimate what I can do each day. To view what I do each day as a 'let-down' or a 'shortfall' of a prior work-rate target, leads to a sense of failure and disappointment, not a healthy outlook. This continues to be hard to accept, but truly, what I do each day is what I achieve each day, and that is good enough. Sounds simple when written down.
The Artists' Book Fair
I respond to a call for participants for Bookface – Chapter 8 – Artists' Book Fair at The Rising Sun Arts Centre, Reading. Neile Wright, welcomes me on board. I book a table for Saturday, 14th October, and offer to help set up on the day.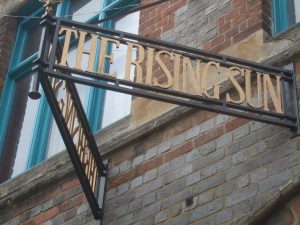 Arts Centre, Reading. Neile Wright, welcomes me on board. I book a table for Saturday, 14th October, and offer to help set up on the day.
14 Days Before
A collaged folding map of Interlacken is accepted for an INTER themed book arts exhibition being held at the Exeter School of Art in November. At LCBA I focus on making editions of several books – 6 Views Leicester, Guerilla Gardening, First Aid Courtship, and Selected Exercises For Health.
Two Days Before
SHIT ! An email – no trains stopping at Reading over the weekend. Instead, the dreaded Bus Replacement Service. Take books to show Tanya at bookartbookshop. Tanya offers an exhibition in the New Year which will feature original collaged work, and copies of my first, yet to be printed, India themed, Riso books.
The Day Before
Wrap and pack. Early to bed.
The Day
4.45 alarm. Teeth. Coffee. Dress. Teeth. Leave. At the bus stop an Italian man from Venice says there will be a bus soon, he takes it every morning to work at Stamford Bridge in The Hospitality Suite. At Paddington a coffee and train to Maidenhead where buses take passengers onwards to Reading. Taxi. Arriving early I help Neile set up and meet other book artists and volunteers – many of who have baked cakes for the cafe. So here I am. Ready. Set up. A float with new pound coins. Not knowing what to expect.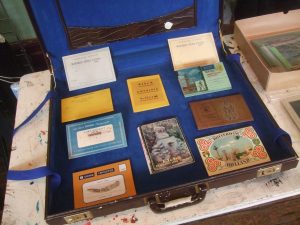 On Deptford Market I had bought a blue cloth lined case – apparently it is a Freemasons case used to carry robes. It makes an excellent display case. Time to look at other's work and chat. During the day these conversations are one of the reasons the day proves so enjoyable. I meet a book artist who also makes their books at The London Centre For Book Arts. Another is a Canadian. During the day he sells lot of books, I tell him I once lived in Quebec, so we swap stories. A visitor tells me of her work with pupils with learning disabilities in local schools. Later she buys a book for a friend who is in prison. She knew he will like the book. This gladdened my heart. One guy wears a tea shirt with Leeds printed on it. I ask him if he supports Leeds United, he says no, but his sister does. I tell him I do, and then realise that they are playing Reading this afternoon. Is that in Reading, or Leeds ? Neither of us know. I wonder how many of the conversations during the day have a hidden 'agenda' of PLEASE BUY MY BOOK. Am I the only one who thinks this ? I make a sale. My first. I am truly delighted. All the work, the early start to the day, the bother of the rail journey really was worthwhile. Is this ridiculously shallow of me ? During the day I decide not to focus on the – please buy my book thoughts – and to simply enjoy showing people the books, answering questions, etc. This is a much better, and simply is more enjoyable. Someone buys four books including one of the higher priced ones. Other books sell. Neile asks me to read from my book The Morning Glories (several others have also read from their books). I enjoy this and sell copies. And then it is time to pack up. 5pm already. I am certainly tired, yet happy. Goodbyes are said, a possible next fair signed up for. The journey back goes well. Central London feels crowded and noisy after the book fair. My first ever sale at an artists' book fair was to Suzanne here with her copy of Exercises For Full Development, Knutsford. I had decided I would give a copy of my book of stories The Morning Glories to the first person to buy a book.
The Day After
A tidy up from yesterday. Stock taken. Tomorrow a trip to Paris. Visits to flea markets and antique book fairs looking for collage material, very much in mind. And Reading beat Leeds United One Nil at Elland Road, Leeds.