Frankenstein In Liverpool, Asheville, and Santander
The Liverpool Book Fair took place at the Central Library on the 7 and 8 June 2018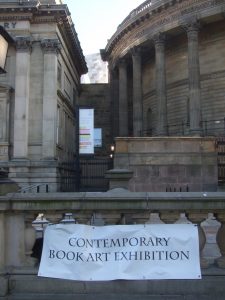 and I took time away from my table, taking the opportunity to see the Frankenstein themed Book Art Exhibition held in the magnificent Victorian libraries upstairs – with its whispering gallery, and an original copy of Audubon's Birds of America (1827 -38). The exhibition included copies of my Frankenstein based book –  RINFANTENESK – and a framed collage exhibited in glass cabinets. RINFANTENESK is include here in Sarah Bodman's review of the exhibition for A-N magazine
https://www.a-n.co.uk/news/artists-books-31-marking-200-years-mary-shelleys-frankenstein/
Images of the exhibition courtesy of Robin Crewley . . .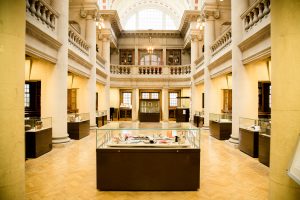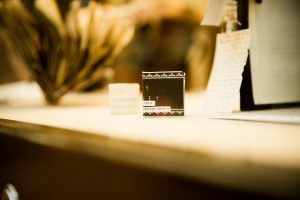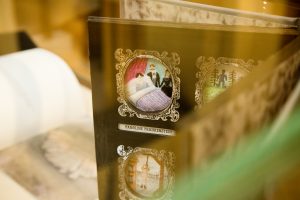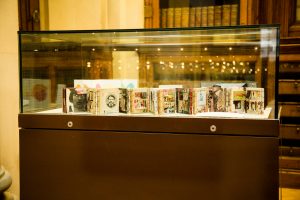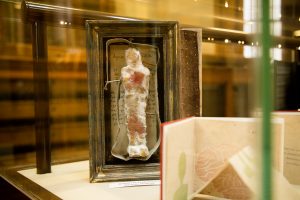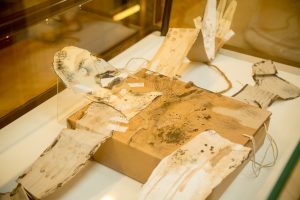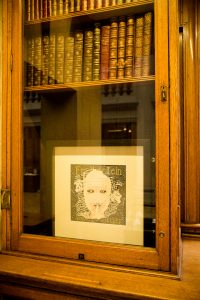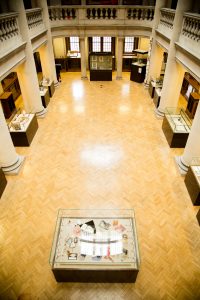 From Liverpool to North Carolina, to the . . . It's Alive ! Frankenstein, 200 years – Artist Book and Print Exhibition at Asheville BookWorks, 9 August to 31 October 2018.
For this, I produced a large version (41.5 x 29.5 cm) of RINFANTENESK – black on red paper with black cloth covers, the title RINFANTENESK foil blocked with clear foil, stab bound, presented in a collaged black box. Here are three of the eighteen pages, including the text for each page below each image . .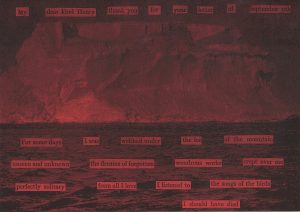 My dear kind Henry, thank you for you letter of September 9th
For some days I was writhed under the ice of the mountain
unseen and unknown the dreams of forgotten wondrous works crept over me
perfect solitary from all I love I listened to the song of the birds
I should have died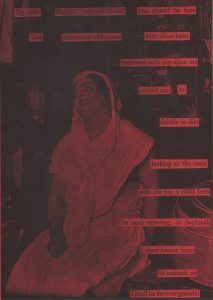 My dear Clerval ! beloved friend ! you should be here
The mercenary old nurse with silver hairs
bestowed such joy upon me
roused me to
dabble in dirt
looking at the stars
with the joy a child feels
The next morning, at daybreak
I drew nearer home
Be assured, sir
I shall be for ever grateful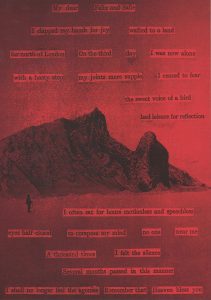 My dear Felix and Safie
I clapped my hands for joy wafted to a land
far north of London On the third day I was now alone
with a hasty step my joints more supple I ceased to fear
the sweet voice of a bird
had leisure for reflection
I often sat for hours motionless and speechless
eyes half closed to compose my mind no one near me
A thousand times I felt the silence
Several months passed in this manner
I shall no longer feel the agonies Remember that Heaven bless you
https://ashevillebookworks.com/its-alive-frankenstein-200-years/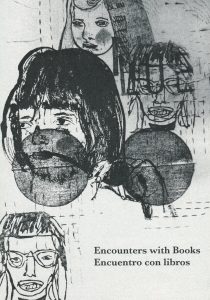 Finally to Santander, Spain for – Encounters with Books / Encuentro con Libro – an exhibition in an artist's book, produced in English and Spanish, for IMPACT 10, Printmaking Conference, 1 to 9 September 2018.
Artists from Australia, Brazil, France, Germany, Italy, Mexico, Norway, Poland, Russia, Spain, Sweden, Switzerland, The Netherlands, UK and USA were invited to participate in this collaborative book. They have sent their own encounters with books to share with you at the Biblioteca Central Cantabria in Santander . . .
Introduction by Sarah Bodman, Centre for Fine Print Research, UWE Bristol, a fuller description is here http://www.bookarts.uwe.ac.uk/encounters
My contribution to the book is a text comprising of phrases cut from Frankenstein, composed to comment upon my reading of Frankenstein . . .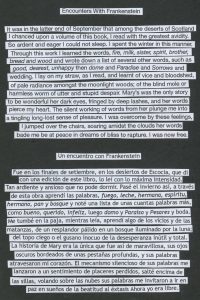 Encounters with Frankenstein
It was in the latter end of September that among the deserts of Scotland I chanced upon a volume of this book, I read with the greatest avidity. So ardent and eager I could not sleep. I spent the winter in this manner. Through this work I learned the words, fire, milk, sister, spirit, brother, bread, and wood, and wrote down a list of several other words, such as good, dearest, unhappy then dome, and Paradise and sorrows and wedding. I lay on my straw, as I read, and learnt of vice and bloodshed, of pale radiance amongst the moonlight woods; of the blind mole or harmless worm, of utter and stupid despair. Mary's was the only story to be wonderful her dark eyes, fringed by deep lashes, and her words pierce my heart. The silent working of words from her plunge me into a tingling long-lost sense of pleasure. I was overcome by these feelings. I jumped over chairs, soaring amidst the clouds her words bade me be at peace in dreams of bliss to rapture. I was now free.