3rd November 2023
In
News
An exhibition hosted by Bower Ashton Library, Bristol, UK
1st November – 5th December 2023
The first erasure texts I made were on the front pages of the METRO newspaper.
I can't remember if I had seen any erasure work prior to this – I was aware of those documents – often those of the government – that are censored with blocked out text, but, I think, that was all.
I wondered if it was possible, to find in the headline story of the METRO – describing a national or world event – words I could use to record my thoughts or actions for that particular day, just like a diary, covering up the 'unwanted' words with white paint.
This process took time, constantly re-reading the article, finding words that fell into the right order to make sense. When this happened ( and this was mostly possible ) the found words 'cut to the chase' and highlighted a poignant moment.
Since then I have erased texts, occasionally images, in a variety of ways, with paint, erasers, pens, by tearing and with scissors, and removing text with scalpel blades. Made erasures by using a typewriter with no ribbon, the metal keys damaging / destroying the text and sometimes the paper.
I like the physicality of altering text. The covering up or removal of words. When using scalpel blades, the removal of words and paper could be regarded by some, as sacrilegious – attacking a work of literature. I am struck, however, by how a destroyed page has a fragility, often a beauty, having survived such a 'creative' attack.
A consequence of removing text, is the increase in the amount of 'empty' space around the words remaining. This removal, feels like something being 'released' creating a space for the eye to consider these 'floating' words ( no longer held in sequential order ) differently.
Working with erasures, I am taken with the idea and process of absence, the absence of something that was.
A challenge is to create texts which alter the sense and meaning, even the subject, of the source material. One I have in mind – to take, say, a car manual and create from this a love story.
This exhibition will include erased books ; A Guide to the National Gallery, a RSPB book of birds, several guide books, Ladybird books – erased photographs and French texts, typewriter erasures, and an erasure of the Holy Communion Service. The Nose, by Nikolai Gogol has been 'totally' erased with each and every word cut from this short work, and each one placed in a box, with the invitation to then re-use these words to create a new text.
During the past year I have submitted some of the erasure work to online and print poetry journals, and these have been published by 3:AM, Arteidolia, Ballast, and Word For Word, amongst others.
To open the exhibition there will be a workshop with students to create erasure texts.
WORK IN THE EXHIBITION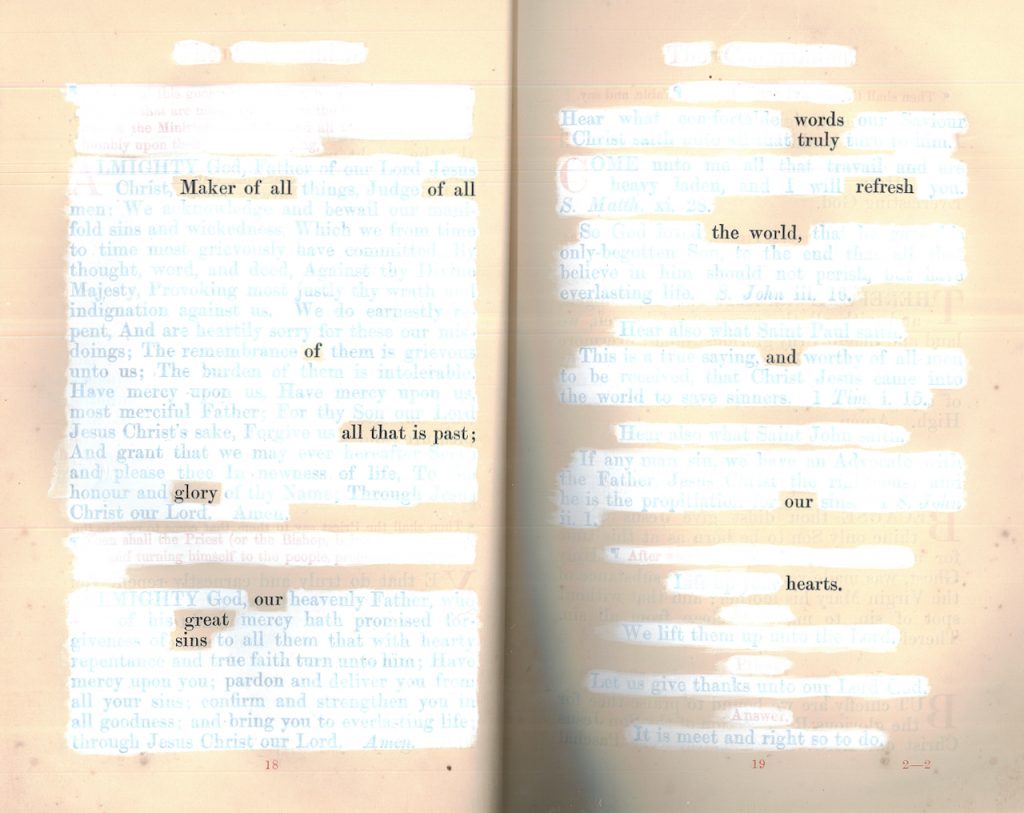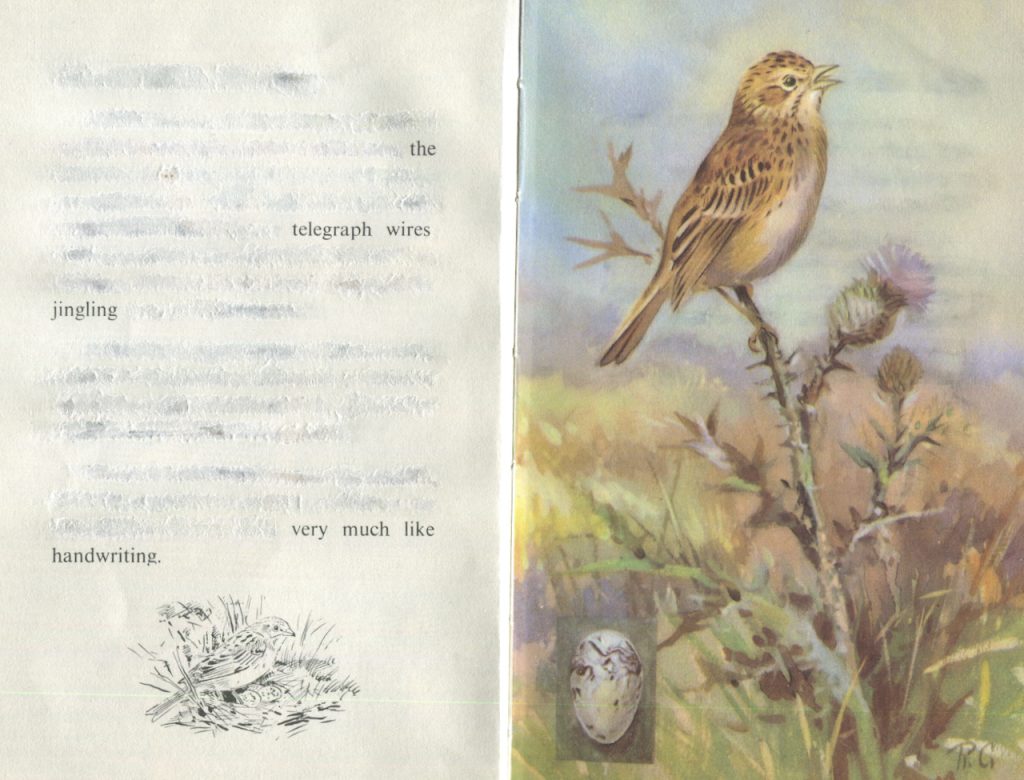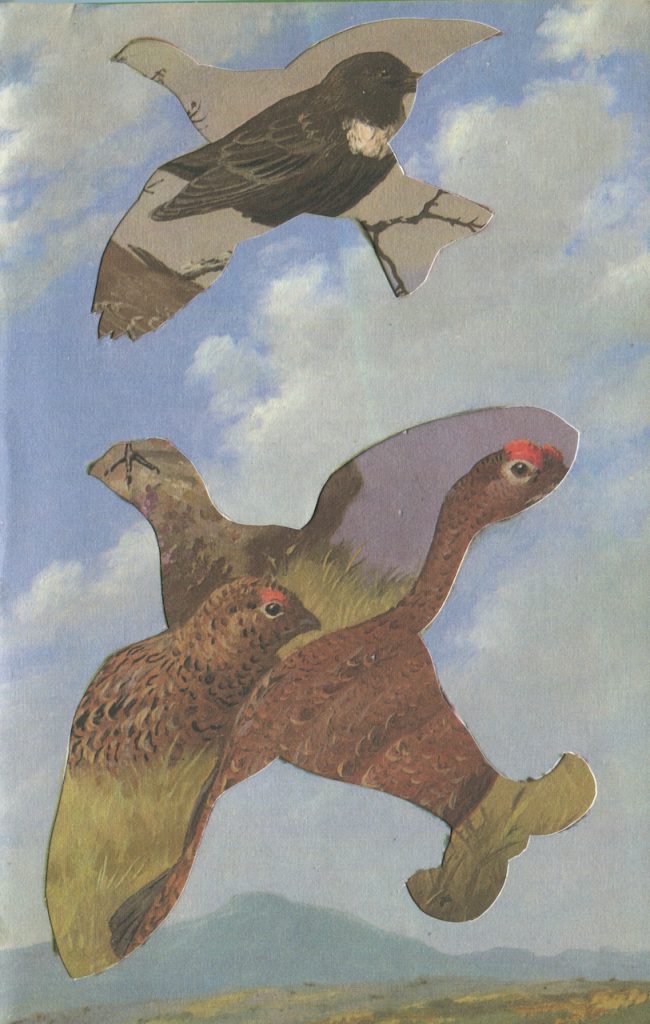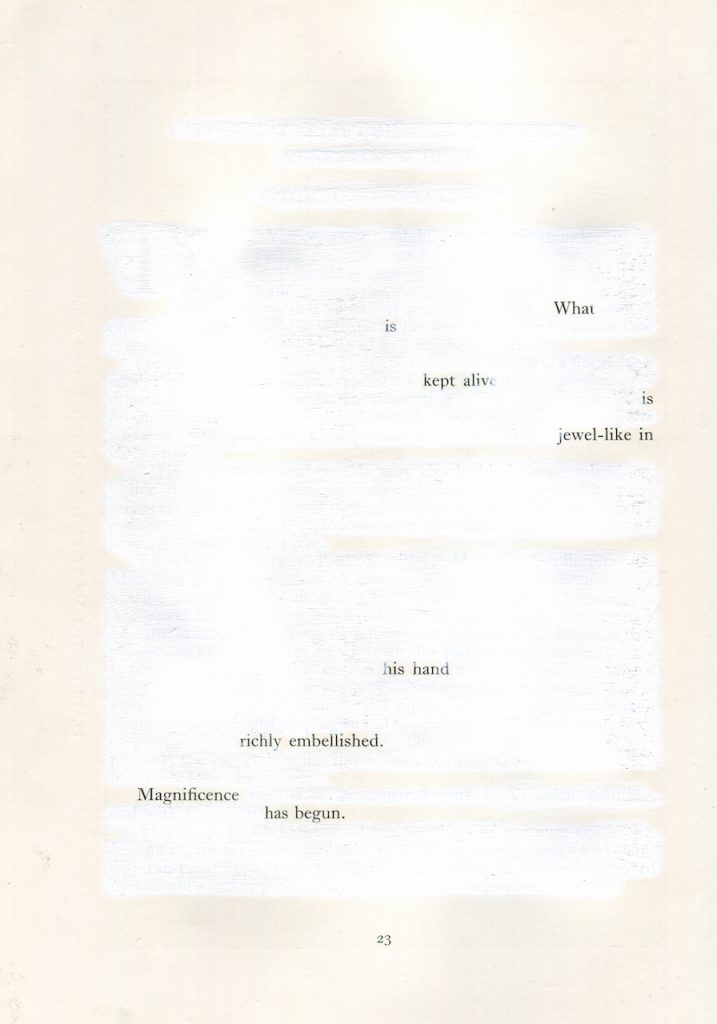 ERASURE WORK ON POETRY WEBSITES ~
3:AM Magazine
www.3ammagazine.com/3am/?s=Daniel+Lehan&swpmfe=652ea0d21b1427a1bfa685e40d9bc1de
Ballast
https://www.ballastjournal.com/daniel-lehan
Arteidolia
www.arteidolia.com/swifts-slows-daniel-lehan/
Word For Word
http://www.wordforword.info/vol41/Lehan.html
IMAGES FROM ERASURE WORKSHOP